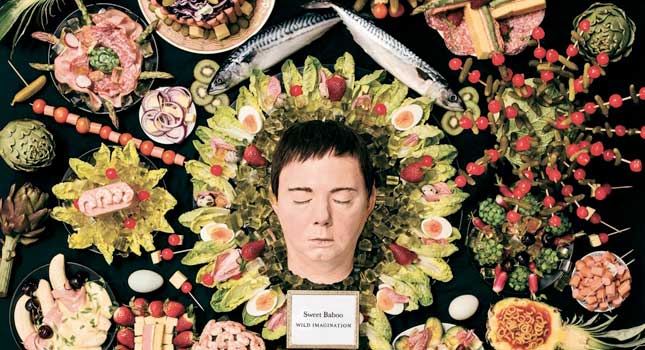 When the Mighty Baboo goes swimming in the breath of the wild, the end result is inevitably something akin to Wild Imagination, the recently announced 7th studio album from Cardiff's own Sweet Baboo. Following up on 2015's The Boombox Ballads, which in all fairness were more vocal ballad than they were boombox echos, the new material will also be heading out on a six date UK tour, giving you a limited number of opportunities to catch it live before it butterfly strokes its way upstream into more remote waters.
Release date
The album will be out on the 2nd June 2017, a little ahead of Sweet Baboo's opening gig on the 13th June 2017, brilliantly at the Ramsgate Music Hall. It'll be available on CD, digital download and vinyl LP with very little embellishment except for the ostentatious album artwork by Louise Mason at Sawn Off, which makes Kasabian's latest effort look like it was created with the dark arts of Draw circa 1999.
Singles
As Wild Imagination has only recently been confirmed, there's just one track to listen to as of yet, the understated indie-pop loop that is Badminton. It's got a simple keyboard riff playing through it all with synth organ shimmers and Mr Bamboozle's pristine vocals singing about the plucky challenge he's putting in on court. Take a listen to the song for yourself in the audio video below.
Sweet Baboo, Badminton audio video:
Tracklist:
The Gardener
Wild Imagination
Swallows
Badminton
Clear Blue Skies
The Night Gardener
Hold On
Pink Rainbow
Humberside
Californ-i-a
2017 UK-ish Wild Imaginations tour dates
In addition to the upcoming arrival of Wild Imaginations, Sweet Baboo has also announced a string of gigs to sit alongside the album launch. It's a small string of six, but they'll be well worth catching none-the-less. All the dates are below:
13th June 2017 – Ramsgate Music Hall, Ramsgate
14th June 2017 – The Prince Albert, Brighton
15th June 2017 – The Lexington, London
16th June 2017 – Clwb Ifor Bach, Cardiff (see more with our what's on in Cardiff guide)
17th June 2017 – Thekla, Bristol
18th June 2017 – Soup Kitchen, Manchester
First impressions
We're quietly heartened by opening single, Badmington, and what it lacks in intensity or pace it makes up for with joie de vivre, great balance and a low lying hook. With a solid back catalogue and a history of great collaborations with Gruff Rhys and Cate Le Bon, Wild Imagination should be another strong album from Sweet Baboo with a good few UK tour dates to catch the new material live to go along with it.
Share the album release details for Wild Imagination by Sweet Baboo with: