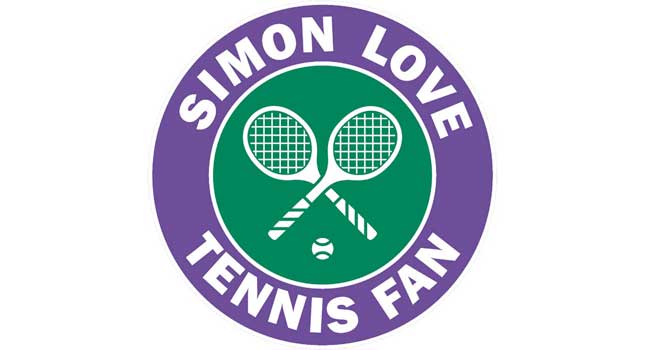 Just as Wimbledon starts to bounce it's mid-size yellow balls for all its worth, Simon Love has arrived with a grass court lob of an EP in Tennis Fan. Whether you consider it an homage to all things racket-oriented, or simply a reference to a surprise penchant for bondage and arse paddles it's entirely up to you, but either way it makes for another smashing net drive from Monsignor Love and his orchestral wonderkind.
The EP was released on 1st July 2016 and it appear to only be available digitally from the Amazonians, ehtunes and Simon's very own Bandcamp page. However, for anyone wanting to get more of a substantial version of the EP you'll need to truck on over to one of his gigs where you'll be able to buy a tennis ball shaped variant of some kind (apparently).
The lead/title track from the release is an indie-pop ballad of lost love and unexpected tennis amour, replete with some great lyrics and lovely, fluffy background pillows from The Little Orchestra. The addition of Pong-like bleeps every now and again is class and if anything could have been more prominent. We'd quite happily pay to hear a Metronomy-remixed version to fulfill our computer game electronica addiction. Take a listen for yourself in the music video below, which takes it's cue from Bob Dylan's Subterranean Homesick Blues, filmed in the same location down a side street in London (although with a capitalist dog twist).
Tennis Fan music video:
Tennis Fans track list:
Tennis Fan
Seasonal Affect Disorder #2
R U Dynamite
Motherf(ckers (feat. A Little Orchestra)
Simon Love 2016 tour dates
We've always thought there's a certain parallel universe connection between Simon Love and the brilliant Euros Childs, so it's good to see the two of them on the same bill at Welsh Club in Cardiff, but if you didn't make it there, he'll also be doing something of an offbeat festival season this summer with both Indietracks and A Carefully Planned Festival on the cards. Check out all of the 2016 gigs below.
3rd July – Cardiff, Clwb Ifor Bach, Please Mind Your Head VII with Euros Childs
28th July – The Haunt, London, with Witching Waves
29th July – Indietracks Festival, Derbyshire
15th October – A Carefully Planned Festival, Manchester
Review
Listening to the opening track makes you imagine a world in which Courtney Barnett went back in time to hump Paul McCartney at the behest of David Bowie to produce the all-singing and all-dancing offspring that could save us from Skynet. In addition to the opening song, the Tennis Fan EP also comes with a cool cover of Alex Hale's Seasonal Affective Disorder #2, the swinging rock and roll, girl band-backed R U Dynamite and the genius of Motherf(ckers, which has been released before on It Seemed Like A Good Idea At The Time, but this time it comes with the silky gloss of A Little Orchestra to take the edge off just a touch.
Share the details for Simon Love's Tennis Fan EP release and 2016 UK tour dates with: