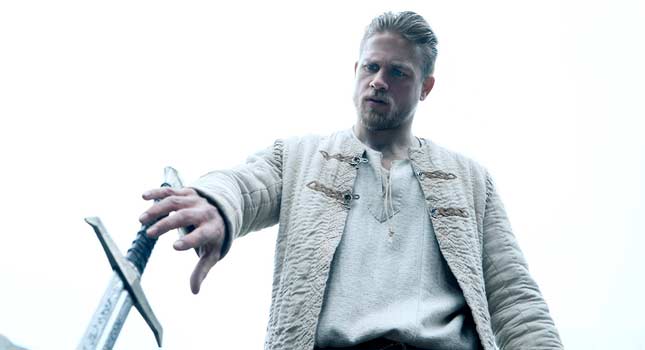 Guy Ritchie's latest film, King Arthur: The Legend Of The Sword, may not be quite as bad as of the critics would have you believe, but it certainly isn't his best work. It manages to throw in a lot of action and there are some cool special effects and CGI, but ultimately it's let down by the unswerving direction it's been given.
The story itself is one of the oldest in history, retelling the origin of King Arthur and the Knights of the round table. The twist, though, is that it turns it upside down to be a rags to riches tale as Arthur grows up in Londinium, fighting his way up from the streets.
It's a decent enough concept in itself, but unfortunately it's mired by a little too much cockney wideboy spirit. This hits an all-time low when David Beckham appears on the screen, and while it is a little amusing with his messed-up face and shoddy London accent, it ultimately helps to bring the film down now.
Charlie Hunnam (The Lost City Of Z) adds to this with a little too much cocky delivery, which was undoubtedly as directed. His portrayal of King Arthur is completely lacking in any real level of emotional connection, leaving you struggling to care all that much about what happens to him; so much so in fact that you end up empathising more with his enemy Vortigen.
Played by Jude Law, he is a complex character and a strong antagonist, which helps to salvage the film from being a complete disappointment. You really buy into his power-crazed megalomania, which sees him do some pretty despicable things along the way.
The rest of the cast doesn't really deserve much of a mention for the most part as they're neither here nor there throughout. Djimon Hounsou and Aidan Gillen do little to bring their characters Sir Bedevere and Goosefat Bill to life, which is disappointing as they feature so heavily in the film.
However, Àstrid Bergès-Frisbey is pretty effective as The Mage with good weighting and a solid understanding of the character's role in the film. Eric Banner is decent enough as King Arthur's father Uther Pendragon, and there's good balance from Poppy Delevingne (Kingsman: The Golden Circle) as his wife Igraine.
It's definitely fair to say that the special effects are impressive on the big screen, but we can't help but feel that they were perhaps a little over done.
Introducing more elements of magic to the story of King Arthur works pretty well, but it is pushed a little beyond the realms of the appropriate.
This is another example of things being taken a little too far in King Arthur: The Legend Of The Sword. It's a film that needed to be reigned in to pull back from the more extreme CGI and to tone down the wide boy stance, which would have freed up a little more space to build connection to the characters at its heart
The irreverent spirit that makes some of the film enjoyable is also the reason it doesn't work as a whole. This needed to be tempered, but instead it's melted down and splashed all over the walls of medieval Britain from a cannon attach the Guy Ritchie's codpiece.
King Arthur: The Legend Of The Sword trailer:
It's a shame that King Arthur: The Legend Of The Sword doesn't live up to the story that inspired it, or the potential of the trailer that preceded it.
It's a film that a lot of action-adventure fans will have been looking forward to seeing, but you might want to brace yourself for a little mild amusement, mixed in with a fair amount of disappointment. It's not all bad, but there's not quite enough good to make up for the negatives.
King Arthur: The Legend Of The Sword review: 3/5
Share our review of King Arthur: The Legend Of The Sword with: