If you've just made it through Part III of the Obi Wan Kenobi TV series on Disney+ then you might have picked up on a mention of Quinlan Vos and wondered whether or not the character will feature in the show. If he does, then there's going to be an actor in the cast that plays the role, so here's everything we know about the character and who might play him.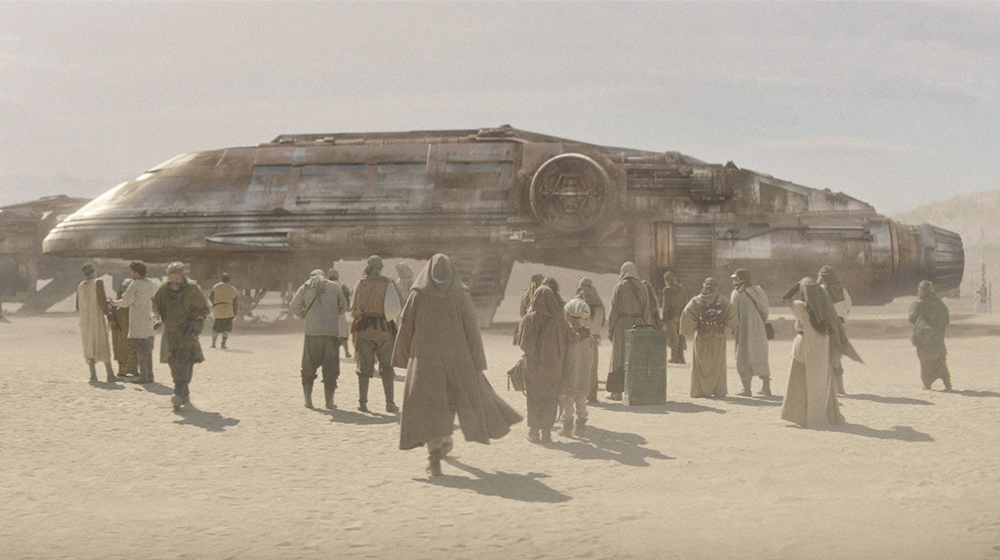 The reference comes as Obi Wan and Leia make it to relative safety in Tala's safe house in the town on Mapuza. She's telling them about the underground network that works to protect the lives of the force sensitive people being persecuted and hunted by the Imperial forces.
Advertisement Obi Wan starts to read details of the people that have passed through and notices a name that he recognises from his past. He says, "Quinlan was here.", which Tala confirms, telling him that he helps now and again smuggling younglings to safety.
Neither of them go into any more detail and they don't necessarily confirm that the full name is Quinlan Vos, but it's more than enough to go on. There's only one Quinlan that Obi Wan knows well and you can find out more about how the two of them worked together in the Clone War in the details below. However, if you want to skip ahead to who plays him, or at least our best intel to-date, then you can read the section further down.
Who is Quinlan Vos?
Advertisement Quinlan Vos is a Jedi Master with a checkered past. He had a slightly fluid interpretation of the Jedi Council's rules and even went on to flirt with the Dark Side. He helped Obi Wan on missions in Star Wars – The Clone Wars, which meant that he was put forward for the assassination attempt on Count Dooku.
Unfortunately, his mission led him to succumb to the power of the Dark Side under the influence of Dooku. He went on to become his apprentice for a while, but was eventually saved and turned back to the ways of the Jedi.
Advertisement The character made his first appearance in Star Wars Episode I: The Phantom Menace, but its a pretty small pseudo cameo. He's coincidentally on a mission on Tatooine and sits in the background in Mos Espa when Qui-Gon Jinn meets Anakin Skywalker.
During the first mission mentioned above, the duo also face off against bounty hunter Kad Bane, who made a huge appearance in The Book of Boba Fett. This adds even more potential excitement into the mix for the Obi Wan Kenobi TV series, because if Quinlan Vos does make an appearance then there's at least the possibility that Bane might too.
After the character was defeated at the end of The Book of Boba Fett, it felt a shame that we wouldn't get to see him again. However, this earlier timeline provides a lot of scope to bring him back as the Jedi-hunting antagonist we know him to be.
Don't forget to follow us on Twitter to see more news and updates on upcoming TV, films, games and more, or to let us know what you think about the show. You can also see additional info on the series with the official Disney+ Twitter page at https://twitter.com/disneyplus.
Who might play Quinlan Vos in the Obi Wan Kenobi Disney+ TV series?
The reality is that we only had one name as a potential contender for the as-yet unconfirmed role of Quinlan Vos in the Obi Wan Kenobi Disney+ TV series. O'Shea Jackson Jr threw his hat in the ring on two counts and we've got nothing but respect for his efforts, but it turns out he doesn't play Quinlan.
He recently came to the defense of the brilliant Moses Ingram, who plays Reva in the show, following the racist abuse she suffered online since the opening episodes aired. In addition to that, he's also changed his Twitter profile to include him being the 13th member of the Jedi council.
This was enough to point to his potential introduction as Quinlan, but Part IV arrived and confirmed that he plays a rebel called Roken. If you don't know O'Shea Jackson Jr too well, he's the eldest son of rapper Ice Cube and his debut big screen role was playing his father in the 2015 film Straight Outta Compton.
In the rest of his Twitter profile, the actor says that he's also in training to beat Goku, so hopefully that goes well. However, as he's not the Jedi Quinlan Vos then he probably won't go on to meet Grogu…
You can also check out our TV news section to see other big releases, or visit the Disney+ website to see more on the show at https://www.disneyplus.com/.