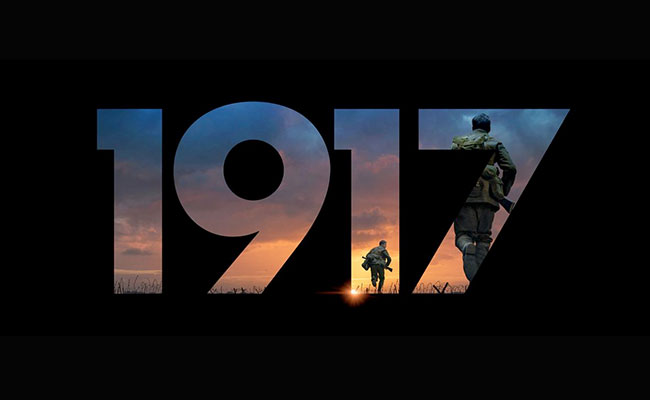 War films are always fairly heavy and that's inevitably going to be the case again for the 1917 DVD, Blu-ray, digital, rental and 4K UK release date (details below) later in 2020. However, there's often a lot to take away from them and the every present importance of remembering the darkest of days, which is big reasons for their enduring success on the big screen and for home viewing.
World War II origin films have been much more prolific in recent years, with the likes of Christopher Nolan's Dunkirk, Taika Waititi's satirical Nazi slant Jojo Rabbit and Joe White's Churchill focused Darkest Hour. However, Spectre director Sam Mendes takes things back to the trenches of the Girst World War in 1917, which has a slightly similar brother-based story arc to Saving Private Ryan.
Advertisement Reviews have been very positive for the film, which will give it a nudge on the big screen and help to ensure that the DVD, Blu-ray, 4K and digital release goes well. It has picked up nine nominations at the BAFTAs and it should also do well at the Oscars, so this is definitely shaping up to be one of the must-watch films of 2020.
The cast is as impressive as the reviews have been, which also adds to the potential success of the home entertainment release. There's Mark Strong, Andrew Scott, Richard Madden, Colin Firth and Benedict Cumberbatch in terms of the big names in the cast. Then there's the lesser known names of the lead roles with George MacKay as Lance Corporal William Schofield and Dean-Charles Chapman as Lance Corporal Tom Blake, who are tasked with hand delivering a message to the front to prevent a massacre of British troops, including Blake's brother Joseph (Madden).
DVD, Blu-ray, 4K, iTunes or digital rental in the UK?
Advertisement The 1917 UK DVD and Blu-ray release date is expected in late April 2020. With Sam Mendes directing, strong reviews, good prospects during awards season and the big-name cast, not to mention the impressive cinematography by legendary director of photography Roger Deakins (
Blade Runner 2049
) it should also be out on 4K Ultra HD on the same date as the DVD and Blu-ray.
The UK digital release date will be your first chance to buy the film and its expected to be out a couple of weeks earlier than the DVD, so it'll be available from iTunes, Amazon Video, PS4, Xbox ONE, Google Play and YouTube in mid April.
Only the HD digital version will include all of the special features, and we'll post up more details once they're confirmed.
Advertisement The 1917 rental release will come out a little later though with a date that will coincide with the DVD and Blu-ray, without any of the bonus content.
1917 runtime and digital file size
The WWI film has a runtime of 1 hour and 59 minutes, so it's set to be a hefty war film at an extra quarter of an hour plus more than Dunkirk was. This will give it a digital file size of approximately 5.07 Gb at 1080p HD, and 2.1 GB in standard definition.
You can follow us on Twitter to see more film news or check out the official movie Twitter page at https://twitter.com/1917 to see more on the DVD, Blu-ray and digital release.
Age rating and parents guide
1917 has been given an age rating in the UK of 15 by the British Board of Film Classification, so this is clearly not going to be a lightweight war movie. The trailer (see below) is pretty intense, but there isn't that much graphic action that you can see, but there are some nervy sections that will look even more intimidating on a big 4K screen.
The parents guide notes from the BBFC include strong injury detail and language, so you should expect thins to get pretty real as the lance corporals track to the front.
Cinema release date
1917 arrives on the big screen in early Jan 2020 with a UK release date of Friday 10th, which is timed to perfection for the awards season. It's the only major new film out that weekend, so competition for the box office is fairly low. However, there should still be residual interest for films released over Christmas like Star Wars The Rise Of Skywalker, Jojo Rabbit and The Gentlemen.
You can visit our UK DVD and Blu-ray release dates page to check out more upcoming films for home entertainment and see additional details on 1917 at https://www.1917.movie/.
Trailer
The trailer is sets up the story pretty well for 1917, while also introducing the young stars that will take the focus for the film. There's also just enough presence for the bigger name members of the cast, so all in all it's a decent trailer.