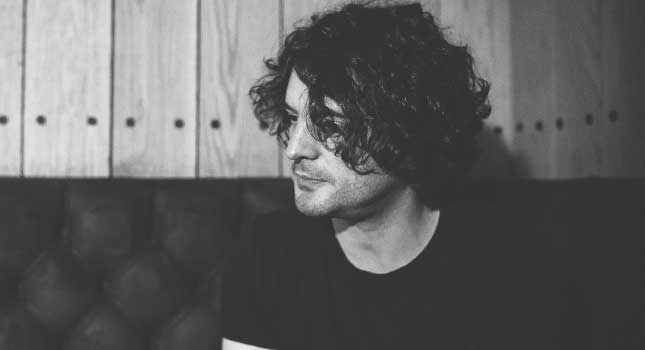 Following up on his exceptional second solo album, The Rookery, Chris Helme will be hitting the road again in 2016 for a series of UK tour dates. With a little over three years since his last significant outing to support the album, it's set to be another experimental psych-folk roller-coaster for the former Seahorses front-man, who'll be showcasing new material on the sixteen-leg cavalcade.
The tour comes as he's about to release the eagerly awaited follow-up record to The Rookery, but there are no details on when the new album will be released as of yet and it was initially touted as maybe last year, so 2016 should be the year. However, what we do know is that it will be preceded by the upcoming release of Chris' new single, You're Too Bad, which will be arriving anon if the runes and soothsayers are to be believed.
The tour will see him calling in on a fairly unconventional list of cities that includes everything from Fareham and Greenock to Kirkcaldy and the very specifically designated Saltburn By The Sea, on the coast just outside of Middlesbrough. Luckily for us, the gigs will also include a few bigger cities along the way, including Cardiff, Leicester, Aberdeen, York and Manchester.
It hasn't necessarily been an easy musical ride for Chris Helme over the years with his troubled origins with John Squires' ill-fated Seahorses, which released but one album, Do It Yourself, back in 1997. The band had begun work on a follow up album, but split soon afterwards when they couldn't agree on the musical direction of the band during the recording process.
Fortunately, he's gone through a long and arduous Renaissance in recent years, which culminated in the dreamy and textured psych-folk genius of The Rookery in 2012, following a certain amount of solo work and two albums with The Yards since the Seahorses split. Now he's about to back it up with the all important third album and the 2016 UK tour dates will be your first opportunity to hear his new material, along with the fat-free brilliance of his debut album.
Chris Helme 2016 UK tour dates:
Friday February 12th 2016 – Fred's Ale House – Manchester
Saturday February 13th 2016 – Ashcroft Arts Centre – Fareham
Friday February 26th 2016 – Ukrainian Centre – Doncaster
Saturday February 27th 2016 – Soundhouse Leicester – Leicester
Saturday March 12th 2016 – St David's Hall – Cardiff
Saturday March 26th 2016 – The Loft – Greenock
Sunday March 27th 2016 – The Duchess Of Kirkcaldy – Kirkcaldy
Friday April 15th 2016 – The Spa Hotel – Saltburn By The Sea
Friday May 20th 2016 – Theatre Severn – Shropshire
Friday June 3rd 2016 – Acoustic Festival Of Great Britain – Uttoxeter
Saturday June 4th 2016 – Enjoy Music Festival – Aberdeen
Sunday June 5th 2016 – TBC – Falkirk
Friday June 17th 2016 – The Tavern – Blyth
Saturday June 18th 2016 – The Tufted Duck – Aberdeen
Sunday June 19th 2016 – The Backstairs – Wick
Saturday June 25th 2016 – Apollo Festival – York
Share the details for Chris Helme's 2016 tour dates with: