With the recent arrival of Lightyear on the big screen it's time to look ahead at when it might come out On DVD and DVD on DVD, Blu-ray and digital with the latest on the UK release date. It's obviously a big departure from the Toy Story series, but the introduction does a pretty good job of simply explaining how it all fits in, leaving you to sit back and enjoy the film.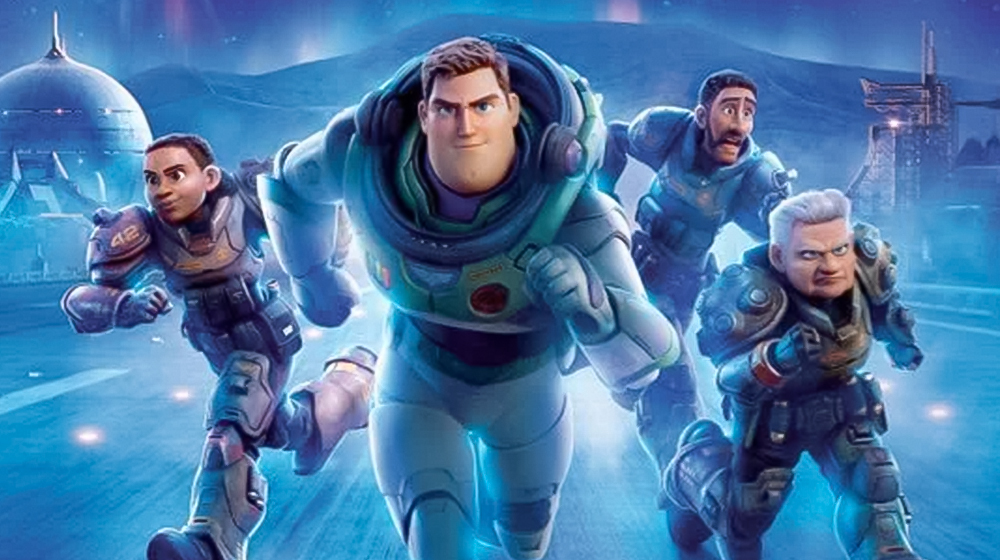 The trailer had already hinted that the film was about Buzz Lightyear's origin story, and as it turns out the action Is a film of the film that created the character in the Toy Story universe. While you were wrapping your head around that concept, the plot picks up with Buzz and his fellow Space Rangers on a mission transporting a huge ship shaped like a turnip filled with scientists blunt for a colony.
Advertisement When they get pulled off course by the discovery of a planet, things go a little pear shaped and an accident means that they get marooned and it's sort of up to buzz to get them off. We don't want to give too much away about the plot for anyone waiting to see it on DVD, Blu-ray or digital, but if you've seen the trailer then you know there's a very important "to infinity and beyond" flight mission for him and a robot army led by Zurg, so it's got a lot going on.
Lightyear UK Blu-ray, DVD and digital release date
Lightyear came out in cinemas on the 17th June 2022, so you're going to have to wait a little while before the UK Blu-ray, DVD and digital release date rolls around. However, looking ahead it should be here around early October at the latest, which will give it a few months to find its way onto Christmas gift lists.
Advertisement The disc versions have a week or so delay on digital, so that should mean that the Blu-ray, DVD and 4K formats will come out around October 2022 if things continue as they are in the film industry. A lot of this will depend on the Disney+ plan to stream the film, but we'll be surprised if this lands all that much earlier than the physical formats.
The home entertainment industry has started to get back to its pre-pandemic timelines for physical releases, so the gap between cinema and home viewing is a little longer now that it was over the autumn and winder in 2021/22. It had been releasing films relatively quickly to make up for the low box office numbers, but with the pandemic easing and films like Spider-Man No Way Home and No Time To Die doing well it reshaped things once again.
Advertisement The flip side to this for Lightyear is that it's managed to split opinions in terms of the critical response to the film, so if that impacts its success then the DVD, Blu-ray and digital might come out a little earlier. However, we'll be surprised if mixed reviews have got the power to shake a big Disney and Pixar release, so it should be close to the estimates above.
The home entertainment formats will have Jurassic World Dominion as its biggest competition, which came out in cinemas in the UK a week earlier. Baz Luhrmann's Elvis arrives a week later too, so it'll have some big name company on the shelves.
We'll update you with more details on the release as they get confirmed, so don't forget to check back here as we get closer to the date. You can follow us on Twitter to see more news and updates on upcoming films, and you can see more on the animated spin-off film in the run up to the release with the official Disney Pixar Twitter page at https://twitter.com/Pixar.
North America release date
The release date in North America should be a few weeks before the UK, and with both Disney and Pixar originating in the United States there's no reason that won't be the situation here. That means that you can expect the Lightyear Blu-ray and 4K versions to come out in the US and Canada around September with the digital version earlier in the month.
North America has had a cool new feature added to its home entertainment options that ties in with the early access Home Premier digital rental. This now has higher prized purchase option, so it's worth checking that out if you were planning on the early access instead of seeing it on the big screen.
DVD and Blu-ray details
Age rating: PG (UK) PG (North America – US & Canada)
Runtime: 1 hour, 50 minutes
Director: Angus MacLane
Cast: Keke Palmer, Taika Waititi, Dale Soules, James Brolin, Mary McDonald-Lewis, Isiah Whitlock Jr., Efren Ramirez and Keira Hairston
Advertisement You can also check out our
movie news
section to keep tabs on the latest upcoming film release dates, age rating details and parents guide notes, or visit the Disney Pixar website at
https://www.pixar.com/
.
Review
Its fair to say that Lightyear has a bit of a slow start and that's going to translate over to the DVD, Blu-ray and digital formats when they come out. It does pick up around the half way point and the various morality questions are pretty interesting for both young and older viewers alike.
As you'd expect with a modern day Disney Pixar production, the film is visually stunning, but it doesn't quite catch the sense of wonder that space travel brings to mind. A part of the reason for this is that it focuses on the emotional journey more than the physical one, which is definitely a good thing, but it would have been nice to get some more interesting perspectives on the space experience.
The emotional side of things is also why the pacing feels a little off as it clearly wanted to give important moments enough time to hit home, but this does result in a slower build up. On balance, it's probably better that they went this way, but some of the time dilation stuff could have been sped through with a shorter montage.
An alternative approach would been to integrated Buzz a little more into the family moments instead of him looking in through the doorway. It results in a disconnect with them that also means the emotional triggers later in the film aren't as powerful as they could have been.
Advertisement That being said, Lightyear is a blast in the latter half and the whole "the biggest battle in life is with yourself" is a clever twist. For some, this is going to be canon breaking, which could be why there's such a divided opinion on the film.
Chris Evans does a good job of picking up the mantel from Tim Allen, bringing a little more serious intent into the mix at times to go with the self narrating charm of the character. Keke Palmer and Taika Waititi add a lot to the second half of the film as the young team of nearly cadets that help Buzz take on the might of Zurg.
DVD, Blu-ray and digital review: 3.5/5