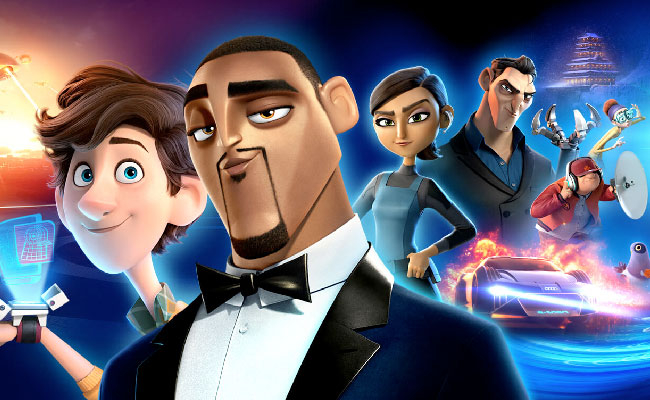 The Spies In Disguise DVD, Blu-ray, digital, rental and 4K Ultra HD UK release date (details below) is coming up following the recent big screen debut, so here's everything we know so far. We'll cover off the date and formats that are getting a release, along with the runtime, digital file size, parents guide and age rating to give you a good idea about what to expect from the home entertainment release.
It's the last big animation film out in cinemas in 2019 and it looks like it picked the later release window to avoid going up against other big films during the holiday season. This will then have a knock-on impact on when it'll be out on DVD, Blu-ray, digital and 4K, so again is should be able to avoid competing too much with the likes of Frozen 2, Jumanji 2 and Star Wars The Rise of Skywalker.
Advertisement The film has an impressive cast that includes Will Smith and
Spider-Man Far From Home
star Tom Holland playing lead characters Lance Sterling, "the world's most awesome spy", and scientific genius Walter Becket. They're joined by Rashida Jones (
Cuban Fury
), Ben Mendelsohn (Spider-Man Far From Home), Karen Gillan (Jumanji 2) and Masi Oka, who you'll recognise as Hiro from Heroes.
You can check out the Spies In Disguise trailer below to see how it all comes together, but the general premise is that Sterling (Smith) gets accidentally turned into a pigeon when he eats the new boffin serum created by Becket (Holland). He then needs to face cybernetically enhanced terrorist Killian (Mendelsohn) in pigeon form with the help of Becket, while also avoiding internal affairs agent Marcy (Rashida Jones) who is trying to track him down after he goes rogue in disguise.
DVD, Blu-ray, 4K, iTunes or digital rental in the UK?
Advertisement The Spies In Disguise UK DVD and Blu-ray release date is expected in the second half of April 2020, but it could push for an earlier date to come out in time for Easter 2020, which is on Sunday the 12th April.
The film is by Blue Sky Studios, which put out Ferdinand and Ice Age Collision Course as its previous animated movie. Neither of them had a 4K Ultra HD release and only Ice Age 4 came out on 3D Blu-ray, so a lot will depend on the success of the film at the box office. However, we're expecting it to be available on both formats, which will be Blue Sky's first 4K release.
Spies in Disguise will be out to buy on digital first with a release date a couple weeks earlier than the DVD and Blu-ray with options on iTunes, Amazon Video, PS4, Xbox ONE, Google Play and YouTube in the UK. The HD versions of the digital release should include special features, but we'll update you with more details as they're confirmed.
Advertisement If you're only looking for the digital rental, it'll be out on the same date as the DVD and Blu-ray, but there won't be any bonus content with it.
Runtime and digital file size
The animated espionage flick has a runtime of 1 hour and 42 minutes. This will still give it a digital file size of around 4.2 Gb at 1080p HD, and 1.65 GB in standard definition.
You can follow us on Twitter to see more film news or check out the official Spies In Disguise movie Twitter page at https://twitter.com/SpiesInDisguise to see more on the home entertainment release.
Age rating and parents guide
Surprisingly, the British Board of Film Classification has given the film an age rating of PG in the UK. Most animated films get a U certificate, but clearly the review saw it as being for an older audience or to give it a bit more parental discretion.
The parents guide notes include mild violence, threat and rude humour, which is a little step up on your average animated film, so you might want to take that into account.
Spies In Disguise cinema release date
The Spies In Disguise UK release date on the big screen took place on Thursday 26th December 2019, which made it one of only 2 animated films to watch over the post-Christmas period. Frozen 2 came out a few weeks earlier, so a lot of people will have already seen it, giving the Will Smith film a decent window, but then with Star Wars The Rise Of Skywalker out over the holidays it was far from an easy run.
You can check out our UK DVD and Blu-ray release dates page for more on upcoming films for home entertainment and see more on Spies In Disguise at https://family.foxmovies.com/movies/spies-in-disguise.