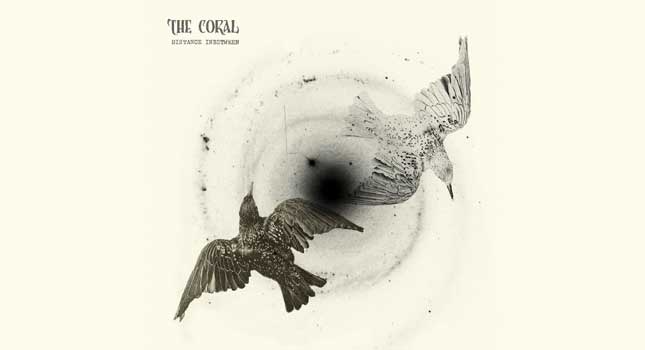 The Coral has been quietly putting out great albums ever since the Merseysiders first arrived in 2002 with their eponymous debut, and the latest batch of new material, Distance Between, will be their eighth studio record. They're a bit like the Chewbacca of the British music scene. Liam Gallagher always got the dark side headlines, Damon Albarn flew the ship and Jarvis Cocker flashed the disco light sabres, but mop-topped James Skelly and crew have always beem universally loved.
Release date
The next phase of the band's psych-folk-indie-rock wanderings will be coming to a record store near you on the 4th March 2016, following up on the success of Butterfly House and the release of their last album, The Curse Of Love. It'll be available on CD, vinyl LP, digital download and, brilliantly, on cassette for anyone still in the pen spinning phase of their musical development, or maybe still driving a Ford Orion. The Coral's online store also has a number of signed copies for sale, as well as t-shirt and jumper bundles that look pretty cool.
Singles
Ahead of the release of Distance Inbetween, two singles have already been put from the album and they've been doing the rounds on the radio, as well as being available from iTunes already. The first is Chasing The Tail Of A Dream, which takes the band back to the psych rock of Magic And Medicine leaving the softer folk genius of Butterfly House behind them. It's got a pounding intro before breaking into the tremolo and wah infused guitars of the track, along with skimming vocals from James Skelly, which you can take a listen to in the music video below.
The second single is called Miss Fortune, which continues the crunchier nature of the album, but with vocals that sound like a continuation of a few of the tracks from Butterfly House. However, the freak-out psych guitar solo is a triple distilled shot to the head, adding to the sense that the record will be closer to Wooden Shjips than Chris Helm this time around.
Distance Inbetween tracklist
1. Connector – 4:13
2. White Bird – 3:30
3. Chasing the Tail of a Dream – 3:44
4. Distance Inbetween – 4:19
5. Million Eyes – 5:35
6. Miss Fortune – 3:32
7. Beyond the Sun – 4:00
8. It's You – 3:28
9. Holy Revelation – 3:10
10. She Runs the River – 3:16
11. Fear Machine – 4:00
12. End Credits – 1:51
Tour dates
To accompany the release, The Coral will also be heading out on a UK tour in 2016 to give us all a chance to listen to the new material set within their impressive back catalogue. The Distance Inbetween tour will kick start in March 2016 at the Riverside in Newcastle Upon Tyne on the 4th, taking in Glasgow, Leeds, Nottingham, Birmingham, Sheffield, Manchester and Oxford, before finishing up at the O2 Forum in London on the 16th March.
They're planning on following this up with a European tour with dates in France, Holland and Germany throughout April, before heading back to the UK for their headline gig at the Sound City Festival (28th-29th May 2016). You can see all the details for the dates and venues below, but with only a handful of gigs in the tour we're expecting it to sell out fast. It's just a shame there's not a few more stops scheduled – Bristol, Brighton and Cardiff would have added a bit more coverage down South, for example.
UK tour dates:
Friday 4th March – Riverside, Newcastle Upon Tyne, UK
Saturday 5th March – O2 ABC, Glasgow, UK
Monday 7th March – Brudenell Social Club, Leeds, UK
Tuesday 8th March – Rescue Rooms, Nottingham, UK
Thursday 10th MARCH – O2 Institute 2, Birmingham, UK
Friday 11th March – The Leadmill, Sheffield, UK
Saturday 12th March – Albert Hall, Manchester, UK
Tuesday 15th March – O2 Academy 2, Oxford, UK
Wednesday 16th March – O2 Forum, Kentish Town, UK
Saturday 28th May – Sunday 29th May – Sound City Festival 2016, Liverpool, UK
European tour dates:
Wednesday 6th April – Le Trianon, Paris, France
Friday 8th April – Melkweg, Amsterdam, Netherlands
Saturday 9th April – Luxor, Cologne, Germany
Sunday 10th April – Knust, Hamburg, Germany
Tuesday 12th April – Lido, Berlin, Germany
Artwork
In addition to the album and the tour, drummer Ian Skelly has added a little more flare to it all by designing a comic strip poster, which you can see below. It's a darkly psychedelic design with shades of Ralph Steadman's illustrative style combining with the shadier elements of DC Comic Books' visualisation.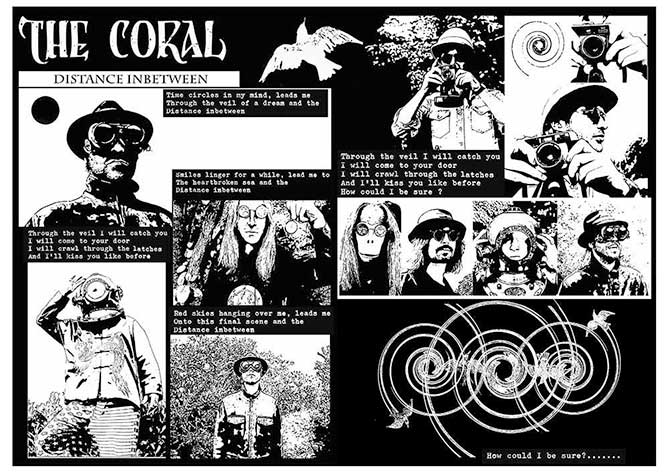 First impressions
It's pretty clear that the Skelly brothers, Paul Duffy, Nick Power and Paul Molloy have put a lot of effort into the new album and if it turns out to be as strong as the two singles already released then Distance Inbetween should be another great record for The Coral.
Share The Coral, Distance Inbetween album details and UK tour dates with:
The Coral, Chasing The Tail Of A Dream music video: