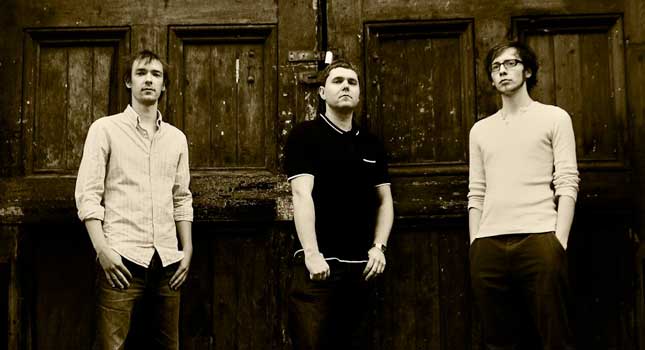 2014 Mercury Music Prize nominees, GoGo Penguin, has announced that it will be debuting new material from its recently announced third studio album at KOKO in London later this year. The stand-alone gig is the Mancunian band's biggest to date, seeing them continuing on from a stream of concerts over the last year or so, following the success of their second album release, V2.0, which picked up the Mercury Prize nomination alongside the likes of Damon Albarn's Everyday Robots and Anna Calvi's One Breath.
The concert will be taking place at the London venue on the 12th June 2015 between 7pm and 1pm with early bird tickets available priced at £15.50, although when these are sold out the standard ticket price will be £17. For anyone that hasn't heard any of GoGo Penguin's music before, you can check out the Hopopono live music video below to hear one of our favourite of their tracks.
The three-piece band are made up of Nick Blacka on bass, Chris Illingworth on piano and Rob Turner on drums and they've been defying becoming musically pigeon holed as they combine elements of electronica, trip-hop, rock, jazz and classical music to assemble their own unique sound. You've only got to listen to the opening section of Hopopono to see this in action with roving piano melodies cascading over break-beat drum skits and full bore basslines.
With the critical acclaim they received for V2.0, there's going to be much more interest in GoGo Penguin's third album, so the KOKO gig is going to be a big proving ground for them. The album isn't due for release until early 2016, so it'll be one of a few opportunities to get a preview of the new material to get a feel for how it's starting to shape up.
However, it won't be the only chance to see them live this year, as they're also down to play at the Cheltenham Jazz Festival on the 2nd May 2015 and the sold out Brighton Festival on the 8th May 2015, before they head out on their worldwide tour, which will see them performing throughout Europe and North America. However, considering the fact that both of the festivals will be taking place before the new material debut at KOKO, it's nigh-on impossible that you'll get to hear any of it at Brighton or Cheltenham.
The good news though is that they aren't the only UK dates on their 2015 calendar, as they've also got the Love Supreme Festival in Sussex on the 4th July, Sheffield's Tramlines Festival on the 26th July and the Brecon Jazz Festival on the 27th July. Each of these three are after the KOKO gig, so we're expecting them to include new material from their third album at each of these too.
In addition to the concert's, festival dates and new material announced, the band has also confirmed that they have recently moved over to become a part of the Blue Note Records fold. It sees them transitioning from their previous Gondwana Records label roster to the long-standing American jazz label, giving them a pretty big springboard to take their music to North America, adding to their US and Canadian gigs in 2015. With the likes of Birdman and Whiplash both featuring jazz drums, the genre is getting a bit of a resurgence at the moment, so GoGo Penguin's unique multi-genre style could go down well on other side of the Atlantic.
Share the GoGo Penguin KOKO gig details with:
Hopopono music video: