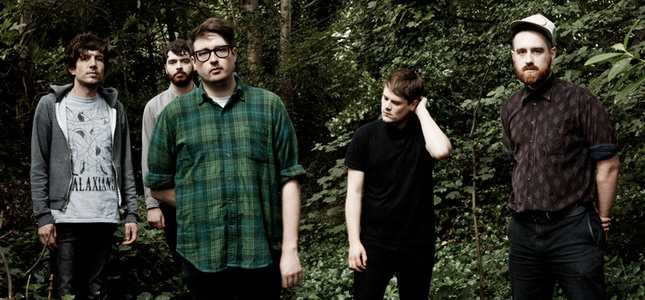 Wild style rock and roll is the perfect way to start a New Year and that's exactly what you get in Hookworms' latest single, Radio Tokyo, inspiring some crazed dance moves with its new wave psych roller-coaster attack. To coincide with the release, the five piece band from Halifax and Leeds have also announced a set of new UK gigs for early 2015 along with a full twelve date US tour.
The single will be released on the 16th February 2015, continuing the band's success following the critical acclaim they received for their second studio album, The Hum. It builds on the strength of the album's opening single, On Leaving, which was released with the record on the 10th November 2014 and the new gigs (full details below) will give you a chance to see it all live for yourself.
Radio Tokyo is a fast paced killer of a track with psych synth and punching drum beats running underneath wailing and growling vocals from lead singer, MJ. It's built up with the addition of reverb and overdrive laced electric guitar rhythms, feedback blooms and wheedling riffs that create a lot of variation as the track crackles on.
If we're honest, we'd have to say that the interlude around the half way point in a little too stripped bear to have the impact it could have, but it does act as a stark contrast when thinks kick in once again. This leads into the freakout ending, which we're a big fan of as it delivers a lot of action for the song's closing bars.
However, Radio Tokyo is far from new as such as it was first written before the band's debut record, Pearl Mystic, back in the summer of 2013, but it wasn't released on it at the time. Instead it was carried forward for The Hum and now it'll be getting a full single release, along with the radio airtime it genuinely deserves.
It's also been condensed into the dark and psychedelic music video, which you can watch and listen to below. Multiple projectors were set up to hit a series of transparent screens to create an installation that the band played within to create the video, capturing the energy of the track and the band's live performances.
Directed by Sam Wiehl, it's the perfect accompaniment to what is a very cool single, reiterating the importance of live performances to a band that has received as much credit for their gigs as they have for their recording studio output.
Hookworms, Radio Tokyo single review: 4.2/5
Hookworms' Radio Tokyo video:
Hookworms 2015 UK gigs:
Saturday 28th February – Stereo, Glasgow
Sunday 1st March – Sound Control, Manchester
Saturday 21st March – Oval Space, London
Sunday 22nd March – Rescue Rooms, Nottingham
2015 US and Canada tour dates:
Saturday 4th April – The Constellation Room, Santa Ana, California
Sunday 5th April – The Echo for Part Time Punks, Los Angeles, California
Monday 6th April – The Rickshaw Stop, San Francisco, California
Wednesday 8th April – Sunset Tavern, Seattle, Washington
Friday 10th April – The Empty Bottle, Chicago, Illinois
Saturday 11th April – UFO Factory, Detroit, Michigan
Sunday the 12th April – The Silver Dollar, Toronto, Ontario
Monday the 13th April – Casa del Popolo, Montreal, Quebec
Wednesday 15th April – Underground Arts – Black Box, Philadelphia, Pennsylvania
Thursday the 16th April – DC9, Washington, DC
Friday 17th April – Rough Trade, Brooklyn, New York
Saturday 18th April – Palisades, Brooklyn, New York
Share our Hookworms Radio Tokyo review with: