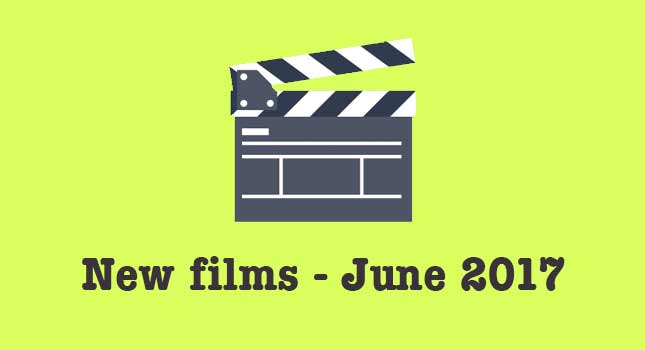 With rave reviews and more than a few great trailers behind it, surely the big release for new films in June has got to be Wonder Woman, which hits big screens in the UK at the start of the month. However, it's not all DC and Diana Prince love as there are a number of other big new films coming out too, along with a few new DVD, Blu-ray and digital download titles to look out for, so here's out run-through of what's on. You can also check out our movie release dates and DVD release dates pages to see what's out later in the year.
New films out in cinemas the UK in June
In addition to Wonder Woman, Hollywood will also be throwing in a reboot of The Mummy this month starring Tom Cruise, along with Transformer: The Last Knight, Baby Driver and Despicable Me 3. You can see all of the new films out in June 2017 by-date below.
1st June 2017:
Wonder Woman – Gal Gadot lights up the screen as the Amazonia princess
2nd June 2017:
After The Storm – Japanese family drama that was one of the Un Certain Regard selections from 2016 Cannes Film Festival
My Life As A Courgette – French stop-motion animation film that was nominated for the Best Animated Feature Film at the 89th Academy Awards
9th June 2017:
The Mummy – Tom Cruise gets archeological with Sofia Boutella as the new incarnation of The Mummy
Wilson – Woody Harrelson teams up with Laura Dern in a screwball story about a daughter he never knew he had
The Shack – Sam Worthington finds out that god is Octavia Spencer in Stuart Hazeldine's The Shack
Norman: The Moderate Rise And Tragic Fall Of A New York Fixer – Richard Gere, Michael Sheen and Steve Buschemi get into a fix in New York
My Cousin Rachel – Rachel Weisz gets a dark path with a period setting in the movie adaptation of Daphne du Maurier's novel
Berlin Syndrome – Teresa Palmer takes on the challenge of Cate Shortland's psychological thriller
16th June 2017:
Churchill – Brian Cox dons the jowls as Prime Minister Winston Churchill in the days before the D-Day landings
Gifted – Chris Evans (Captain America: Civil War) gets dramatic in this story about a girl with incredible mathematical abilities
22nd June 2017:
Transformers: The Last Knight – Prime and the gang return for more big budget robotic action
23rd June 2017:
Hampstead – Diane Keating and Brendan Gleeson get romantic in the North London suburb
The Book Of Henry – Naomi Watts stars in the movie adaptation of the children's book of the same name
28th June 2017:
Baby Driver – Ansel Egort, Jamie Foxx, Kevin Spacey, Lily James, Jon Hamm and Jon Berthnall combine in Edgar Wright's getaway crime flick.
30th June 2017:
Despicable Me 3 – Gru returns for more hi-jinks and with a long lost brother and new supervillain in town he'll have his work cut out for him
All Eyez On Me – Biographical drama about the life of rapper Tupac Shakur
The House – Will Ferrell and Amy Poehler tag up in this ridiculous comedy about parents that open a casino in their house for the college fund
New DVD, Blu-ray and digital downloads in June 2017
5th June 2017:
T2 – Trainspotting – Renton, Spud, Sick Boy and Begbie are back for the belated sequel to Trainspotting
It Was 50 Years Ago Today! The Beatles: Sgt. Pepper & Beyond – documentary celebrating the Beatles album
Split – James McAvoy gets multiple personalities to deal with
Headshot – Indonesian martial arts action film about an amnesiac whose past tries to catch up with him
Denial – Rachel Weisz takes on a holocaust denier in this historical drama
Jawbone – British boxing drama
Prevenge – the brilliant Alice Lowe succumbs to the gruesome requests of her unborn baby
12th June 2017:
John Wick Chapter 2 – Keanu Reeves puts in another shift at the assassin's office in the sequel to the 2014 cult classic
The Great Wall – Matt Damon gets up on the Chinese brickwork in this monstrously fantastical tale
Resident Evil: The Final Chapter – as the name suggests, this is the last action adventure in the series
The Founder – Michael Keating goes back to the origins of the golden arches
The Hatton Market Job – British crime caper
19th June 2017:
The Lego Batman Movie – the comedy might of "I'm Batman" in Lego boots makes its way to DVD, Blu-ray and digital download
Moonlight – Academy Award-winner for Best Film – Barry Jenkins' coming-of-age drama about a young black man growing up in Miami
26th June 2017:
Fifty Shades Darker – gray gets taken down the light spectrum a little in the latest film in the series
Patriots Day – Mark Wahlberg, J. K. Simmons, John Goodman and Kevin Bacon tackle the 2013 Boston Marathon bombing
Don't forget to subscribe to our newsletter for the latest film news and reviews.
Share the new films, DVD and Blu-ray releases for June 2017: