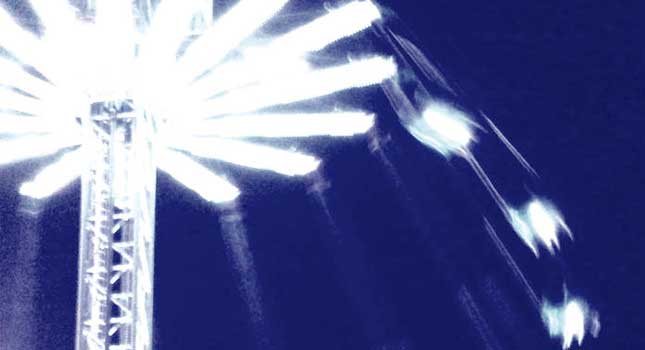 Cate Le Bon meets Courtney Barnett under the hide of Amsterdam 19-year old, Pip Blom, who looks set to be the new shiny voice of garage pop with her latest single, I Think I'm In Love. It's a significant metamorphosis for the singer/songwriter, who's opening demo album, Short Stories, was pretty much just Pip and her guitar, but on the new single there's the full compliment of electric guitars, bass lines and drum action to fire it on.
While a full studio album has got to be on its way for Pip Blom at some time in the not too distant future, for the time being all we have to go on is I Think I'm In Love and it makes for a high impact introduction to her new material. The twanging electro guitar starts it all off with intent before a semi-motorik beat powers it up and Pip's crystalline vocals drive it through with great pace and a wild fringe, like it comes from a long weekend with Juliette Lewis.
The distorted garage guitar rhythm adds to the momentum of the track and there's a cool interlude just before the end to give you a sense of tiny space within the rapid fire 2:24 song. The guitar solo makes for a nice touch early on and by the time you get to the door flung exit you're just about ready for one more spin. The lyrics are fairly light with old-school pop love spirit, but this is more a fleeting affection born out of the night than a Jane Austen-like romance. As garage pop goes, it's faultless.
To add to the arrival of the new single and great new sound, Pip Blom will also be kicking off a series of tour date in the UK this month (April 2017) starting out in Leeds at the Hyde Park Book Club. There's only five gigs left with a limited coverage of locations in the UK, so you might need to saddle up Paco if you want to ride out to see her. However, we'll be surprised if the new material and current tour dates don't go on to inspire more live shows later in the year.
Pip Blom 2017 UK tour dates:
Apr 10th – Leeds, Hyde Park Book Club
Apr 12th – Manchester, Castle Hotel
Apr 13th – London, Paper Dress Vintage
Apr 14th – Swindon, Level III
Apr 15th – Norwich, The Owl Sanctuary
If not an album, then there should at least be a few more singles or even an EP from Pip Blom during the course of the next year or so and we'll be keeping tabs on things to keep you updated. You can also track the latest from the Amsterdamers with Pip's official Twitter page @Pipblom, along with reaction to the 2017 tour dates if you struggle to find the bit. For now, you can check out a live cut of I Think I'm In Love in the video below.
Pip Blom, I Think I'm In Love live:
Pip Blom, I Think I'm In Love review: 5/5
Share our review of Pip Blom, I Think I'm In Love with: