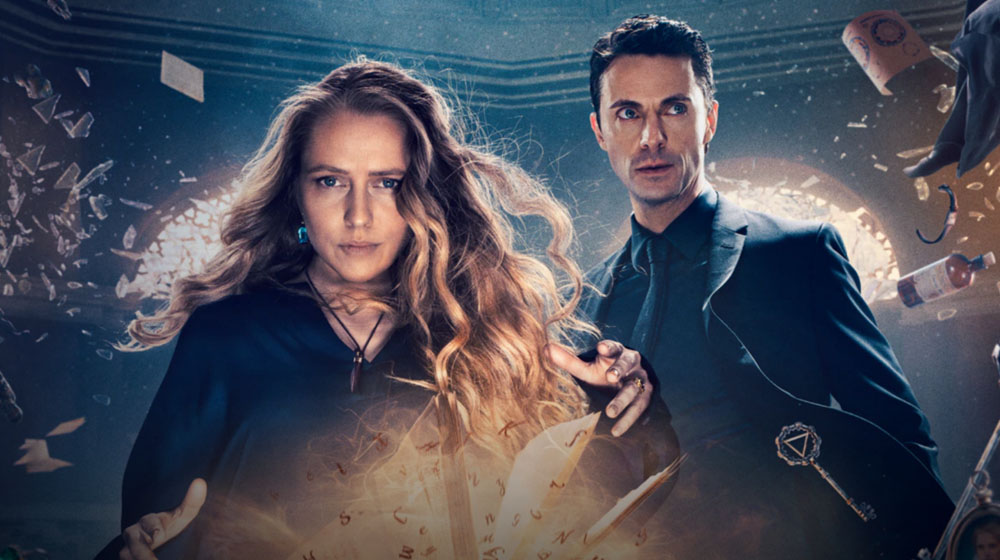 The thrilling climax to the trilogy, A Discovery of Witches Season 3, premiered on Sky One on the 7th January 2022, which means that the UK DVD and Blu-ray release date won't be too far behind it. Whether you don't have a Sky satellite package or you just want to add the physical version of the series to your collection, the home entertainment options will be arriving soon (details below).
Season 3 continues the adaptation of the All Souls Trilogy by Deborah Harkness with Diana and Matthew returning to the present day following their time travel back to 16th Century London. Diana has been trained by Betty Alsop to be an even more powerful witch than in Season 1 and Matthew has also been on his own journey of discovery into his own dark past along the way.
Advertisement Back in the present day, Diana is pregnant with twins. She's also vowed revenge on high-ranking Congregation member Peter Knox for the murder of Emily Mather, so there's a conflict between that and her own motherhood to face. If that isn't enough, they will also have the full might of the Congregation to take on, so it's set to be a thrilling climax to the dramatic fantasy series.
UK DVD, Blu-ray and digital release date
Obviously, you can watch Season 3 of The Discovery of Witches over on Sky, but if you want to either the DVD or the Blu-ray to your collection to be able to watch it how you want the UK release date has been confirmed for Monday the 28th March 2022. The series arrived on Sky with Episode 1 on the 7th January 2022, so there's just a little over 2 and a half months to wait for the home entertainment release.
Advertisement However, details for when Season 3 will be coming out to buy on digital release are still unconfirmed. For films, this is usually available a week or so earlier than the DVD and Blu-ray versions, but things are a bit more nuanced when it comes to TV series, especially when they're on streaming or subscription services like Sky.
That being said, the first two series can be bought on Amazon Prime video, as well as on iTunes and the Google Pay store, so Season 3 should follow suit in the not so distant future too. If we had to call it, we'd say it'll be around the same date as the Blu-ray and DVD release, but we'll keep an eye out for more details and add them in where relevant.
Advertisement Don't forget
follow us on Twitter
to to keep up-to-date with the latest DVD, Bl-ray and digital release dates, and you can see more on the series with the official Sky Twitter page at
https://twitter.com/skytv
.
North America release date
At the moment there is no official date for the Discovery of Witches Season 3 DVD, Blu-ray and digital release in North America. However, as with the digital format in the UK, the previous series are available in the US and Canada, so it's safe to assume that this will be the case for the grand finale. We'll update things here as they're confirmed and you can keep tabs on updates by following us over on Twitter.
A Discovery of Witches Season 3 DVD and Blu-ray details
Age rating: 15 (UK), 15 (US)
Runtime: 7 episodes at approx. 45 minutes each
Director: Episode 1 – Jamie Donoughue
Cast: Theresa Palmer (Point Break (2015)), Matthew Goode (The King's Man), Owen Teale (Game of Thrones), Trevor Eve, Tanya Moodie, Trystan Gravelle, Jacob Ifan, Steven Cree (Terminator Dark Fate), Edward Bluemel, Olivier Huband, Alex Kingston (Doctor Who), Ivanno Jeremiah (Humans, Doctor Who, Black Mirror), Greg Chillingirian
You can also check out our TV news section to keep tabs on the latest upcoming films, or visit the Sky 1 website at https://www.sky.com/watch/a-discovery-of-witches.
Review
There is only one Episode of Discovery of Witches Season 3 out on Sky at the time of writing, but it's started well with everything building towards a huge finale. If you've read any of the All Souls Trilogy books by Deborah Harkness then you'll have a good idea about what is still to come and it looks like it's going to be incredibly dramatic on screen.
The cast is as strong as ever and everything is poised for some series fantasy drama with incredible set designs, special effects and costumes to bring the story to life. The addition of the impending birth for Diana adds even more weight to everything that is about to happen and it doesn't feel like its just there for the emotional tug like in No Time To Die.
That being said, the nature of the story going back to the present, means fans of the old world wonder from Season 2 might be a bit disappointed. However, there should be enough action, drama, thrills and spills to keep you on the edge of your seat until the end of Season 3.
The Discover of Witches Season 3 Episode 1 review: 4/5