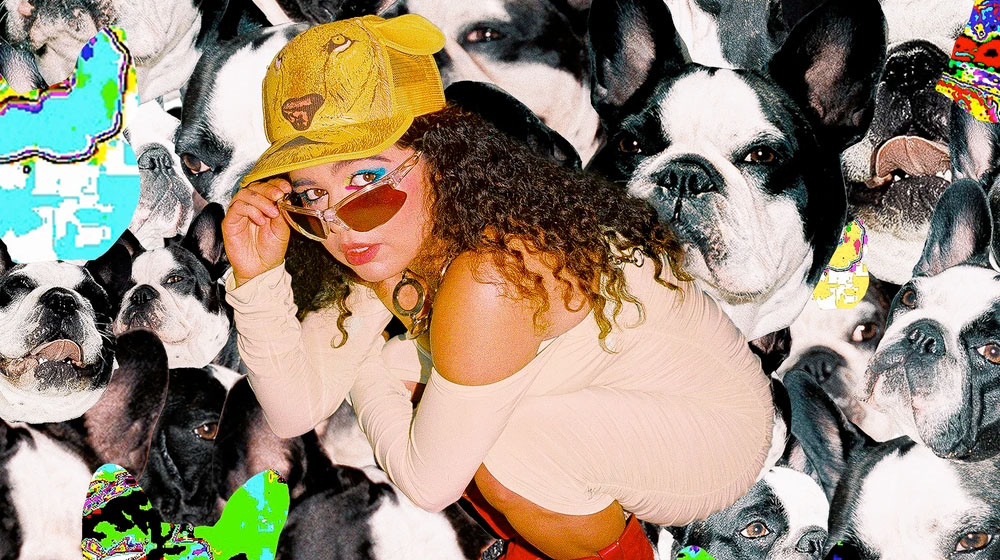 Quiet on set monster lovers, and brace yourself for a rundown of our best songs from Remi Wolf's debut studio album, Juno. The Californian is about to drop it like its toasty with thirteen tracks that blend hip-hop, pop, soul and funk and with a hefty chunk of radio airtime at the moment, it's going to be a record to look out for when it comes out on the 15th October 2021.
Not all of the songs are pure genius from start to end, and we'll get to that in more detail later on, but in general, there's a lot to get excited about. Juno follows on from the success of Wolf's previous EP releases – You're A Dog! (2019), I'm Allergic to Dogs! (2020) and We Love Dogs! (2021) – but thankfully she's moved away from both her canine and exclamation mark obsession for her first full album release (that us unless you study the front cover art too closely).
Advertisement In addition to the best songs and singles from Juno, you can also see the full track list, plus a few pointers in terms of other Remi Wolf songs that are worth checking out. She's been working pretty hard over the last few years, so there's more there than you might expect, despite the fact that her best chart position to-date is outside of both the US alternative Billboard top 10.
Juno best songs and singles
There are currently 5 songs out from Juno and four of them are singles. The one of the five that hasn't made it out as a single is Grumpy Old Man, but it's still one of the best songs on the album. It's a funk flash with humor that's as lighthearted as it is a fun listen. It's not going to inspire a thousand bands, but it's well worth a playlist place.
Advertisement However, the fatty milk extract of the fatty milk extract has got to be Quite On Set, which is a funk-a-delic hip hop hit with witty lyrics and solid bass. Sadly, the song's joke highs come undone with the runaway kid section, which is turbo annoying, but if you've got Garage Band or some other editing software, you cans trip it out easily enough for your own private edification of the song.
Don't take our grumbles too harshly, though, because it's definitely the best track on the album. Other songs that are worth talking about are Liquor Store and Guerilla. The former has got shades of The Specials and Musical Youth at times and the latter is a blitz of interjections with great rhythm. They're all totally different from each other too, while still being instantly recognisable as Remi Wolf songs, which is no easy thing to achieve.
Advertisement The only single that didn't impress for us is Sexy Villain, but hey, maybe you like that sort of thing. It's slow down soul pop and despite its interesting guitar layering, it just didn't land as well for us.
If you're looking to support us, you can follow us on Twitter for more of our music news and reviews, or tweet us to let us know if you see things differently. You can also see more on the album in the run up to the release with the official Remi Wolf Twitter page at https://twitter.com/remiwolf.
Remi Wolf, Juno tracklist
Liquor Store – 02:52
Anthony Kiedis – 02:51
wyd – 03:19
Guerrilla – 02:44
Quiet On Set – 03:15
Volkiano – 03:44
Front Tooth – 02:45
Grumpy Old Man – 03:31
Buttermilk – 02:17
Sally – 02:43
Sexy Villain – 03:08
Buzz Me In – 02:46
Street You Live On – 03:33
More of Remi Wolf's best songs
With three EPs in her back catalogue, there are a couple more best songs from before Juno that are worth taking a listen to. Hello Hello Hello from I'm Allergic To Dogs! is probably the biggest of these, having charted in the alt Billboard chart in the US.
The other track to check out is Photo ID, which is from the same EP. We're also expecting more albums from Remi Wolf in the years to come and if the debut album is anything to go by then there could be a fair few of them.
We'll update you with more details on the album as they get confirmed. You can also check out our movie news section to keep tabs on the latest upcoming films, or visit the Remi Wolf website at https://remiwolf.com.